Acceler has been providing general warehousing facilities in Mombasa, Nairobi and many other points in Kenya for holding/storage and distribution of 3rd party stocks for 29 years. We have a strong understanding of our clients requirements having provided them with 13 years warehouse fulfilment for both equipment and saleable inventory.
We offer a wide range of warehousing and specialized services which include cold storage and highly secured vault storage areas. Our warehouses are located in Nairobi, Mombasa and other key points in Kenya. They are used for storage of imported goods for clients while awaiting delivery call-offs as well as storage of goods destined for export. Whereas we provide warehouse facilities for general cargo, we also have bonded warehouse facilities for storing goods under customs bond. Our warehouse operations involve provision of secure facilities that meet clients standards in terms of equipment, security and, health and safety. We have electricity backup generators that enhance our 24 hour surveillance system and cold room storage that ensure goods are safe and stored under required temperatures.
We carry out continuous stock administration which includes receipt, tagging, palletization, put-away, data update and issuing out to users and customers. Where necessary, we carry out assembling (kitting), bundling, packaging and labelling of stocks. Our administrative processes include continuous stock verification, cycle counting and stock counting. We provide customs bond processing services for goods under bond.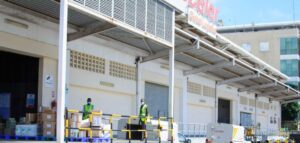 Our general warehouse capacity is over 650,000 square feet. We offer a wide range of warehousing and specialized services including cold storage and highly secured vaults. Our cold warehousing facilities include temperature controlled storage with separate zones for storage of medicines, food products, and flowers for imports and exports throughout the year under suitable conditions.